The National Science Centre was established and officially opened on 29 November 1996, with its effervescent, educational and informative science and technology exhibits. The Centre is shaped like a truncated cone capped by a geodesic dome, and divided into several sections, with exhibits covering various themes in scientific information and knowledge.

Located at Bukit Kiara,surrounded by forest greenery, this attraction aims to link science with the environment and the community by educate both adults and kids on topics such as environmental awareness, pathways to discovery, prehistoric and future world, humanity creativity, innovation and technological advancement, the National Science Centre also offers other facilities to the public including an indoor freshwater aquarium tunnel, multimedia library, lecture hall, gardens, indoor and outdoor interactive zone and multi-purpose hall.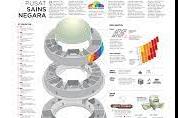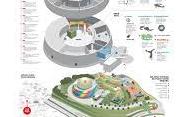 Fee: RM3 adults, RM2 child (Main door)
Access to some facilities and zones require an additional fee.

How to go:
The National Science Centre is an 18 minutes drive from the Hotel. As it is located in the suburbs, the best way to go there is by Grabcar App, which would cost RM17.00++.
Website :
Article Contributed By: Mr. Muhammad Faridzulzaim, Front Desk Management Trainee
Pictures credit to: en.psn.gov.my