What is Batik ?
The word 'batik' means 'to dot' and is derived from Javanese words. For example, amba (for writing) and titik (dot) can be translated as 'wax writing' or 'picture with dashed lines'. The production of handmade batik in Malaysia is relatively new, and is inspired by Batik Tulis Jawa (handwriting) but Malaysian batik has developed its own aesthetic and is distinguished from Javanese batik.
Batik is basically an artificial fabric which has to undergo a delicate and repeated process of waxing, dyeing and boiling. Wax is used as a color blocking method in the staining process. Every piece of fabric that remains untouched by a particular color should be covered with wax.
Types of Batik :
Hand-painted Batik
In Malaysia, batik artisans are famous for their hand designs which is a technique known as batik tulis. Craftsman sketches the design using a pencil, then traces the design on the fabric with hot liquid wax by using a metal object called canting. Wax needs to be applied consistently to avoid 'un-joined' wax lines that will result in loss of 'wax resistance effect' during the staining process. When the wax outlines are done, the artist uses the brush to paint the dyes within the outlines. The use of brush can create shaded and multi-colored designs.
A variety of fabrics is used including cotton, rayon, linen, voile and silk. This hand-painted batik is usually produced in a length of 4 meters or a length of 2 meters. 4 meters long handmade batik is used for women's clothing while 2 meters long handmade batik is used for men's clothing. In addition to clothing, handmade batik is also used as hijabs, pareos, crafts and even as framed art.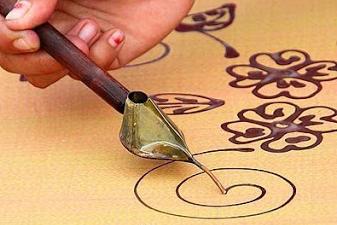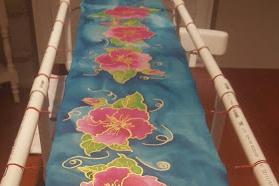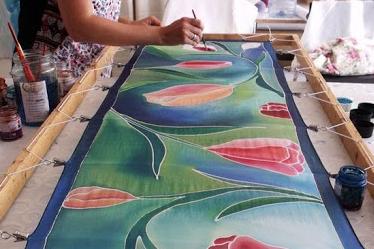 Block-printed Batik
Another type of batik is the block-printed batik or stamped batik where the making process is one of the oldest traditional techniques in Malaysia. The canting will be replaced by a copper block or sometimes a wooden stamp with an artistic patterned bottom.
The block is dipped and printed onto the fabric, which is then dip-dyed. Batik with a single colour is produced when the wax is removed. To produce multi-colors and more complex printed batik, waxing (with different blocks), dyed and dewaxing will have to be done a few times. Block-printed batik does not have the fineness of hand-printed batik because the similar shapes or patterns are repeated on a piece of fabric.
Cotton is also a popular fabric used in block-printed batik and the quantity of its output is around 20 meters, depending on the size of the original fabric. Block-printed batik is usually produced for shirts and dresses for casual wear. Some handicrafts and soft furnishings also use block-printed batik as the core material.
In general, the process of hand-painted batik is very slow and it takes a long time to produce, while block-printed batik is faster and more suitable for mass production. As a result, hand-painted batik is also more expensive and exclusive than block-printed batik.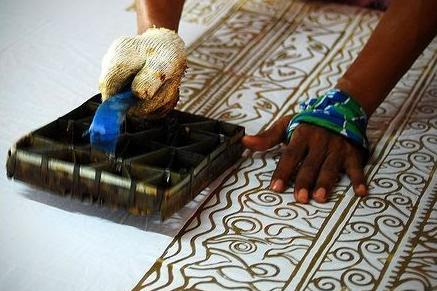 Don't miss out on a chance to join a batik painting workshop when you come and visit Kuala Lumpur. You can try to learn and gain some unique experience in making batik at Jadi Batek Gallery which is located at the heart of the city. Do not forget to tag us too on Instagram when you visit the workshop!
In addition, you should visit the souvenir shop too and get some hand-drawn batik products.
Address:
30, Jalan Inai, Imbi, 55100 Kuala Lumpur, Wilayah Persekutuan Kuala Lumpur
Getting There:
Should you take a Grab Car, the fare is around RM5 per journey. Alternatively, you can just take a 9-minutes walk from our Hotel to reach the destination.
Fee:
Various, depending on the package that you would like to sign up for.
Website:
Article Contributed By: Ms. Nur Famiezatul, Front Desk Management Trainee
Photo credit to: Pinterest