Royal Selangor or formally known as Selangor Pewter sets up a Visitor Centre that welcomes anyone who is interested in seeing various handmade-based handicrafts that are carefully made.
In addition to viewing the collection in the showroom, you can also watch a demonstration of how the pewter is polished and tidy. Packed with info!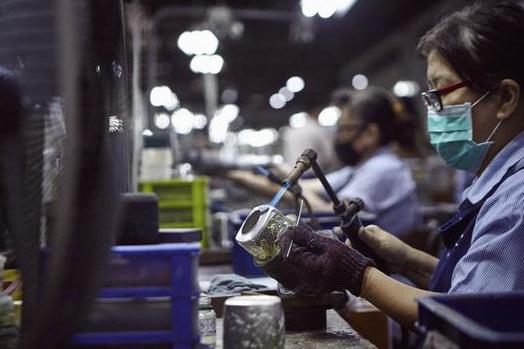 Here are some activities that you can do:
Learn about their history

- When you are at the Visitor Centre, why not take some time to learn a little bit about the background of this company. The story of how it all began in 1885, when a young boy named Yong Koon Seong travelled all the way from Shantou, China to Malaya. If you had paid attention during history classes, you definitely knew about this.

Check out their World's Largest Tankard

- Before stepping into the visitor centre, just a few steps from the reception desk, you will notice one of the main interactions at the Royal Selangor Visitor Centre. It is none other than the world's largest tankard! Please Snap a photo with it, because it is an iconic visitor center landmark.

Go on One of the Guided Tours - Guided tours are offered here at no cost. You can choose to explore the place with a tour guide or go on a self guided tour and you will be equipped with a pair of headphone and a guided tool.
Marvel at The Lucky Teapot

- The Lucky Teapot is a melon-shaped teapot crafted with great details and it is more than 100 years old! Wow, what a historical teapot! You can learn the history behind it and can purchase it too as Royal Selangor also produces replicas of the melon teapot. Besides that, tea caddies that are inspired by the teapot are available too!

Learn all about science

- There are walls dedicated to periodic tables and also other walls featuring the chemical composition of pewters/tin! There is also a huge weighing scale and you can step on it to find how much it weighs.The Chamber of Chimes is where you can make noise!

Take a tour around the factory

- You can see the actual factory during this tour and the impressive number of skilled workers doing their jobs! You can also get to witness up close live scenes of the pewter-making process - from Casting all the way to the Finishing. Each process is carried out at the specified station.

Take part in their workshop

- Here, they offer two types of workshops - the School of Hard Knocks and The Foundry. The School of Hard Knocks is where you really have to knock hard! This workshop allows you to shape your own bowl from a pewter disc. On-site instructor will be there to guide you through the process. You can even imprint your name on it! How cool is that? Awesome!

The fee for this workshop is RM65 per person and available to those aged three years and above. As for the Foundry workshop, well this is where you are free to create whatever you want! The on-site instructors will also show a step-by-step demonstration on how to make a few different types of creations. The participants are also allowed to bring it home at least three of their creations. The fee for this workshop is RM180 per person and participants must be at least 15 years old and above.

Take a bite at their carrot cake

- You cannot head home without stopping by here. Attention to all Pastry lovers, a variety of your favourite food can also be found here. To anyone with a sweet tooth, do not skip the dessert! Breakfast & daily lunch are also served here and the menu changes every day.
Admission: Free
Address: 4, Jalan Usahawan 6, Setapak Jaya, 53300 Kuala Lumpur, Wilayah Persekutuan Kuala Lumpur
Getting there:
From hotel, you can drive or take public transport like Grabcar to arrive there. If by Grabcar, it only cost you around RMxxx per ride
Article Contributed By: Ms. Nur Famiezatul, Front Desk Management Trainee
Photo credit to: Wikimapia, zeotrip, thepeakmalaysia